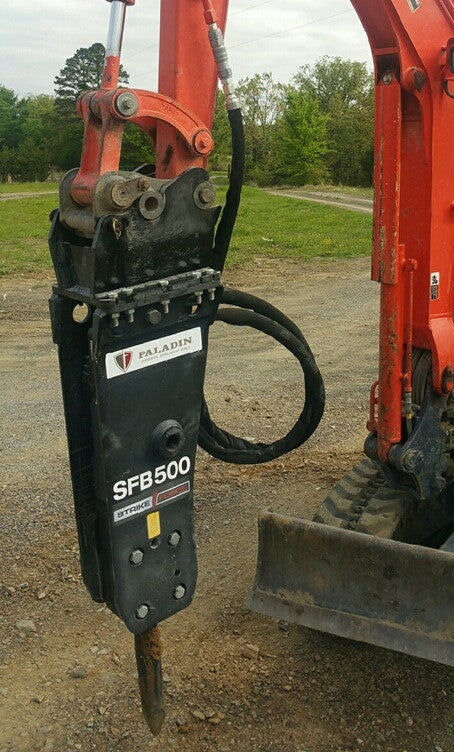 SFB500/237500M-0022 Paladin Strike Force Breaker Bundle Kit, 5,070 Lb-13,227 Lb Weight Class Machines
---
FREE USA SHIPPING. 
Buy Paladin Strike Force Hydraulic Breaker Hammers For Sale 
At BoltzEquipmentParts.com


New SFB500/237500M-0022 Paladin Strike Force Breaker Bundle Kit, 5,070 Lb-13,227 Lb Weight Class Machines. 
Kit Price Includes: 
One Breaker, Two Moil Tools, One Extra Seal Kit.  
A Two Position Frame Mounting Bracket Ready To Install On Standard SAE Skid-Steer Loader Machines   

Paladin SFB500, SFB750, SFB1000 & SFB1500
Small Mounted Breakers
Blank-fire protection: Also known as Auto Shut-Off; stops the breaker operation when the material has broken down or there is not sufficient down pressure on the breaker, preventing harmful blank blows.
Enclosed breaker housing: To reduce noise to allow use in restricted areas, and to protect the breaker hydraulics from damage.
Safety: Removes the operator from direct contact with the breaking work, protecting your worker or yourself from injury.
Shock isolation is standard: Heavy duty urethane members at the top and bottom of the breaker prevent harmful forces from being transferred to the host machine, protecting your investment.
Heavy duty Housing: Rugged and wear resistant to ensure durability even in the most abrasive and abusive applications.
Rotatable bushings: Provides multiple wear surfaces, which when used protect the breaker tool bit and bushing, reducing replacement requirements and cost.
StrikeForce adapter pattern: A common adapter pattern, with other StrikeForce tools in the same weight class, maximizes flexibility in use of adapter systems, minimize owning costs.
Flat-top adapter mounting: Gives the flexibility to use the breakers on multiple machines. Paladin has a complete line of adapters to suit backhoe loaders and small excavators, that support this breaker model. If customized adapter systems are required, Paladin can support with the industry's most extensive adapter product design capability.
All services and adjustment points are accessible without removing the breaker from the host machine: This allows the breaker to be serviced and adjusted while installed on the host carrier, no need to remove the breaker from the machine as required with some competitors. 
Paladin's new Strike Force Breakers provide exceptional performance and reliability for a variety of demolition tasks. From small excavation projects to the toughest demolition jobs, Paladin's Strike Force Breaker series has a smooth, powerful operation for maximum output energy and efficiency. Strike Force Small Mounted Breakers are ideal for mini excavators and skid steer loaders for jobs that need a high breaking capacity. These breakers are the safe and efficient solution for road maintenance, urban demolition and building refurbishment. The Mid-Range Breakers have rugged construction and optimized power to weight ratio specifically for trenching and demolition. With the advanced noise reduction and maximum energy transfer, the Mid-Range Strike Force Breakers are ideal for breaking hard rock and reinforced concrete. Large Range Breakers are ideal for the largest and most heavy-duty demolition jobs including primary excavation of quarrying, tunneling, and mining. With the most efficient piston and cylinder design to transfer the highest shock wave into breaking objects, these large-range breakers provide the optimal transfer of blow energy for maximum operator results.  Click on the Download PDF button below for full details/specs.
*Photos for general reference only
**Materials and specifications subject to change without notice
 Stock varies with demand.  If not in stock, buyer agrees to receive a full refund within 24-48 bushiness hours, or wait on stock to be replenished and order fulfilled.  
*Free Shipping and Flat Rate Shipping Is Only For Contiguous Lower 48 US States. 

Market Restrictions May Apply By Brand In Certain Regions. 

Please Contact Us For International Shipping Rates. We Specialize In Full Container Load And Full Truck Load Orders.  Volume Discounts Available.  
---
Share this Product
---
More from this collection