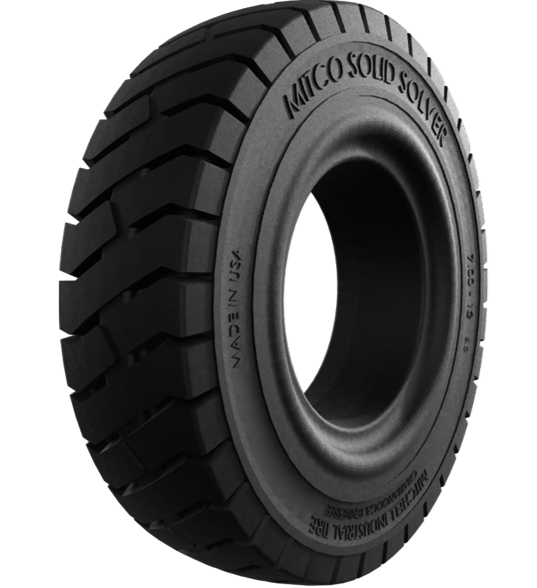 1200x20-8.00" Solid Solver Resilient Lug BSW ST Tire
---
LOW FLAT RATE SHIPPING.  Buy Solid Solver Resilient Pneumatic Shaped Solid Forklift Tires For Sale At  BoltzEquipmentParts.com
Solid Solver tires are manufactured in the USA with 100% natural rubber polymer giving them the best physical properties for any industrial tire application. Both compounds offer great cut and abrasion resistance and generate less heat in operation giving longer life. The 100% natural rubber polymer compounds also offer exceptional rolling resistance thus cutting energy costs.


Features:

FLAT, BROAD PROFILE
Built for stability and safety
100% NATURAL RUBBER COMPOUND
Delivers cut and abrasion resistance and generates less heat in operation giving longer life expectancy and low rolling resistance.
SPECIALLY DESIGNED TIRE LUGS
Designed for grip, ride and braking for operator comfort and safety
Please confirm fitment by machine make, model, and tire size prior to ordering.
*Photos for general reference only and may not feature the most current design
**Materials and specifications subject to change without notice.
If An Assembly= Includes Tire & Wheel Assembled
If AP= Aperture Holes Near Rim For Extra Soft Ride
If ST= Standard Sidewall Non-Aperture (Without Holes Near Rim)
If EF= Quick Click Type (Lock-Ring not required)
Sold individually, as one tire (Each).  Additional related sizes/specs may be shown below.
Larger orders may require Specialized Handling and Transportation and take longer to coordinate shipping. 
Note: Welded lugs or fins on wheels cause structural damage to pneumatic shaped solid tires with steel reinforced base.  Mounting these tires on welded lug or finned wheels voids the warranty.


Market Restrictions May Apply By Brand In Certain Regions. 

Please Contact Us For International Shipping Rates. We Specialize In Full Container Load And Full Truck Load Orders.  Volume Discounts Available.  
Related Sizes below.  Contact us for price and availability.  * Denotes available in EF Click Type option
TIRE SIZE 
RIM 
SIZE 
              ACTUAL 
    TIRE DIMENSIONS 
TREAD 
WIDTH 
TREAD 
DEPTH 
AVG. 
WEARABLE 
HEIGHT 
OVERALL 
DIAMETER 
OVERALL 
WIDTH 
(in) 
(in) 
(in) 
(in) 
(in) 
(in) 
4.00-6 (RIB) 
6 X 3.25 
10.5
4
2.9
0.11 
1
4.00-8 (RIB) 
8 X 3.75 
16.4
4.8
4.2
0.13 
1.8
15x4.5-8* 
8 X 3.0 
14.5
4.3
3.8
0.50 
1.4
5.00-8 
8 X 3.0 
17.9
4.8
4.4
0.85 
2.1
5.00-8 
8 X 3.25 
17.9
4.8
4.4
0.85 
2.1
5.00-8 (RIB) 
8 X 3.75 
17.9
4.8
4.4
0.11 
2.1
16x6-8* 
8 X 4.33 
15.9
5.7
5.3
0.65 
1.4
18x7-8* 
8 X 4.33 
18.1
6.5
5.5
0.64 
2.1
6.00-9* 
9 X 4.0 
21
5.4
5.1
0.59 
2.5
21x8-9* 
9 X 6.0 
19.8
7.3
6.7
0.75 
2.3
6.50-10* 
10 X 5.0 
23
6.7
6.1
0.59 
2.7
23x9-10* 
10 X 6.5 
23
8.1
7.5
0.87 
2.7
23x10-12* 
12 X 8.0 
23
9.5
8.8
0.63 
2.3
200x50-10* 
10 X 6.5 
17
7.9
7.4
0.75 
1.5
7.00-12* 
12 X 5.0 
26.1
6.8
6.3
0.62 
2.9
27x10-12* 
12 X 8.0 
26
9.5
8.7
0.87 
2.9
7.00-15 
15 X 5.5 
29.1
7.6
7
0.69 
2.9
7.50-15 
15 X 5.5 
29.5
8
7.2
0.59 
2.9
7.50-15 
15 X 6.5 
29.5
8
7.2
0.59 
2.9
6.50-16 
16 X 5.5 
29.5
6.9
6.1
0.63 
2.8
7.50-16 
16 X 5.5 
31.3
8
6.7
0.69 
3.1
8.00-16 
16 X 5.5 
32.5
8.1
7.3
0.63 
3.4
8.15-15 (28X9-15)* 
15 X 7.0 
28
8.7
8
0.63 
2.6
250-15* 
15 X 7.0 
29
9.9
8.7
0.63 
2.9
250-15* 
15 X 7.5 
29
9.9
8.7
0.63 
2.9
28x12.5-15* 
15 X 9.75 
27.8
12
10.9
1.13
2.6
8.25-15* 
15 X 6.5 
32.5
8.6
8
0.69 
3.6
300-15* 
15 X 8.0 
32.3
10.8
9.6
0.69 
3.5
10.00-20 
20 X 7.0 
39.3
9.8
8.7
1.25
3.9
10.00-20 
20 X 7.5 
39.3
9.8
8.7
1.25
3.9
10.00-20 
20 X 8.0 
39.3
9.8
8.7
1.25
3.9
12.00-20 
20 X 8.0 
42.3
10.5
8.9
1.25
4.5
12.00-20 
20 X 8.5 
42.3
10.5
8.9
1.25
4.5
* Available in EF Click Type 
 
 
 
 
 
 
---
Share this Product
---
More from this collection