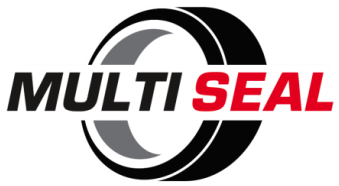 30 Gallon Multi Seal Pro HD 2500 (Heavy Duty) Tire Sealant, Thirty (30) Gallon Drum #35201
---
LOW FLAT RATE SHIPPING.  Buy Multi Seal Tire Sealants at BoltzEquipmentParts.com 
To view all Multi Seal tire sealant products and sizes, click

 

HERE.
PRO HD 2500™
Seals Punctures Up To 3/4 Of An Inch Diameter (the largest in sealant industry)
Also seals slow leaks including bead and valve stems, virtually eliminating under inflation.
Reduce Flats Up To 95%
Made With Kevlar
One Time Treatment Lasts The Life Of The Tire
Retreadable
Repairable
Water Washable For Quick And Easy Removal
Aids Balancing A Tire
Makes A Mechanical Plug/Repair (no chemical reaction, adhesives or glues compared to other sealants)
Only Synthetic Fibers (no natural fibers that break down)
Safe For All Tires And Wheels
Non-Flammable
Environmentally Friendly, Clean  MSDS (Propylene Glycol, not Ethaline Glycol like most all other sealants) ! 
PROTECT YOUR FLEET, YOUR FARM EQUIPMENT, YOUR OVER-THE-ROAD TIRES WITH SUPERIOR SEALANT TECHNOLOGY
Your heavy tires routinely endure heavy punishment. They encounter 'tire killers' such as jagged rocks, broken concrete, rebar, scrap metal, welding rods, nails and other hazardous objects. MULTI SEAL® PRO HD 2500™ Formula allows your tires to withstand the rigors of heavy, continuous use. Your tires, drivers and equipment are protected from job-stopping flats due to slow leaks around the rim as well as air loss through punctures – from pinholes to serious punctures (up to 3/4″ diameter in the tread area). One treatment of MULTI SEAL® PRO HD 2500™ Formula will reduce flats by up to 95%, keeping you rolling safely, thereby saving you money and lost hours. Easily installed, PRO HD 2500™ Formula lasts the life of the tire and is easily washed out at the end of the tire's life. Installed by tire service centers, retreaders, equipment sellers, or the do-it-yourselfer, PRO HD 2500™ Formula is your key to improved tire life and performance.
If your operation includes vehicles/equipment such as these, PRO HD 2500™ Formula is your choice:
Backhoes
Articulated Loaders
Road Graders
Agricultural Equipment – tractors, mowing machines, harvesters, haul trailers
Skid Loaders
Cranes
MULTI SEAL® PRO HD 2500™ is also ideally suited for on- and over-the-road vehicles including:
Tractor/trailer rigs (18 wheelers)
Sanitation Trucks
Heavy Farm Trucks
Concrete Trucks
Dump Trucks
Cargo Trailers
Any Over-the-Road Heavy Haulers 3/4 ton or heavier
Let us solve your under-inflation and flat tire problems. MULTI SEAL® – superior science, superior sealants.
Sold individually (each). We also carry commercial truck tires and off road equipment tires for machinery.  SEE OPTIONAL PNEUMATIC INJECTION CART VIDEO BELOW (sold separately)
*Photos for general reference only and may not feature the most current design
**Materials and specifications subject to change without notice.  
Usually ships same or next business. If out of stock, buyer agrees to receive a full refund within 24-48 business hours, or wait for stock to be replenished and order fulfilled. Customer will be notified.
Market Restrictions May Apply By Brand In Certain Regions. 


Please Contact Us For International Shipping Rates. We Specialize In Full Container Load And Full Truck Load Orders.  Volume Discounts Available.  
---
Share this Product
---
More from this collection